You may have a defective airbag case if you can prove the airbag was defective and it caused or worsened your injuries in an accident.  To prove your defective airbag case, you need evidence of a defect and evidence linking the defect to your injuries.
Working with a defective airbag lawyer can help provide you the answers you need to understand your legal rights in a defective airbag case. Newsome Melton can guide you through the legal process and help you decide the best course of action for your case.
What Constitutes a Defective Airbag?
A defective airbag refers to any airbag that contains a design defect, manufacturing defect, or other deficiency that jeopardizes the safe function of the airbag.
For example, there are two main issues with the airbags at the heart of the Takata recall:
Ammonium nitrate is used as the propellant agent in the inflator
A drying agent is not used to absorb moisture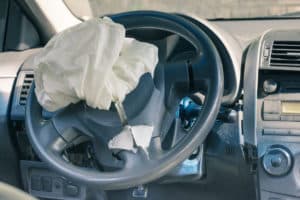 Working with a defective airbag lawyer at Newsome Melton can help provide you the answers you need to understand your legal rights in a defective airbag case.
Ammonium nitrate can degrade when exposed to moisture. This can lead to an explosion when ignited by the crash sensor, which can lead to shattering of the airbag mechanism. The shrapnel created during the explosion can cause severe and fatal injuries to passengers and the driver.
Other types of airbag defects that cause injuries include:
Failure to deploy in an accident
Late deployment in an accident
Unexpected deployment
How Do I Connect My Injuries to a Defective Airbag?
According to a report by the National Highway Traffic Safety Administration (NHTSA), as of February 15, 2018, as many as 240 people have been injured by defective Takata airbags. Other airbag defects may cause injuries as well.
If you wish to file a defective airbag lawsuit, your case must establish a connection between the defective airbag and your injuries. To do this, we may rely on assistance and testimony from accident reconstruction experts, engineers, medical specialists, and more.
The types of injuries related to a defective airbag depend on the nature of the defect. For example, some of the injuries that victims of exploding Takata airbags have sustained include:
Puncture wounds
Lacerations
Skull fractures
Death
Injuries related to other airbag defects might include facial fractures, dental injuries, eye injuries, jawbone injuries, and more. Severe injuries are the basis for most defective airbag cases.
If you or a family member suffered a serious injury due to a defective airbag, work with a lawyer familiar with complex product liability cases. You have a legal right to compensation, and a lawyer can help you recover the damages you suffered.
Who is Responsible for My Defective Airbag Injuries?
Vehicle and airbag manufacturers may be liable for injuries caused by an airbag defect.  Your lawyer can work to recover compensation from the responsible manufacturers.   
Other parties may be liable for airbag-related injuries too, depending on the facts of your case. Other liable parties might include:
Car dealers who sold vehicles containing known defects
Repair technicians
The lawyers at our firm can help you identify the liable parties based on your case-specific facts; we can then fight the large companies in complex product liability litigation.
What Type of Compensation Am I Entitled to in a Defective Airbag Case?
While the nature and extent of your injury dictate the amount of compensation you may recover, settlements or judgments can include compensation for:
Medical expenses
Lost wages
Property damages
Pain and suffering
Loss of consortium
Call Newsome Melton If You Think You Have a Defective Airbag Case
If you suffered severe injuries because of a defective airbag in your vehicle, discuss your legal rights with a lawyer familiar with these complicated cases. The attorneys at Newsome Melton are well-versed in product liability law and can provide you with answers about your case and legal rights.
Contact us today for a free consultation at 888-221-5316. We are ready to assist with your legal needs.