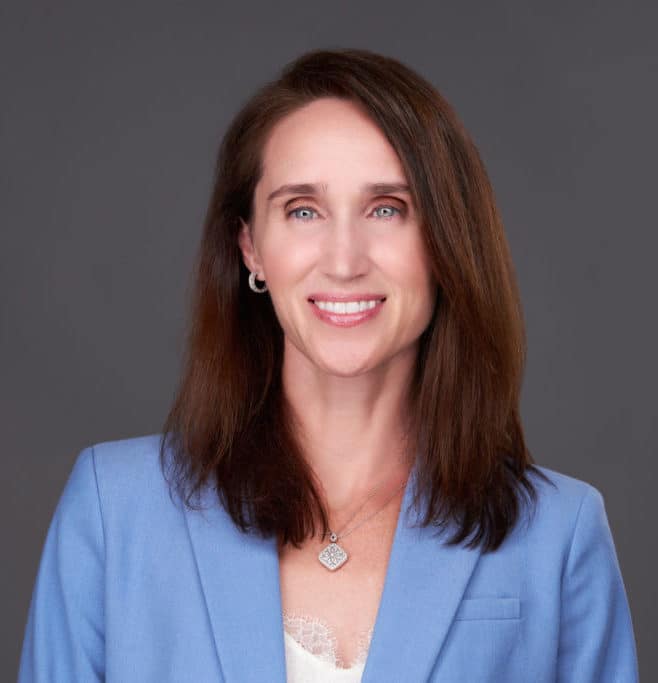 Maegen Peek Luka practices law because she is driven by a desire for justice. When lives are torn apart, Ms. Luka takes great pride in compassionately helping families and individuals try to put the pieces back together while seeking legal redress against companies who put financial gain over the safety or security of human lives. Ms. Luka is unafraid to tackle large, complex cases and legal issues. She applies her focus and determination to every case on which she works.
Ms. Luka performed her undergraduate studies at the University of Florida, where she earned a 4.0 grade point average while majoring in English and minoring in Mass Communications. She then attended the University of Florida College of Law on full scholarship where she graduated second in her class. While in law school, Ms. Luka was Symposium Editor for the Florida Law Review and served as a research assistant to two professors. For her academic accomplishments, she was awarded membership into the Order of the Coif and won book awards in civil procedure, criminal law, negotiations, mediation law, property law, and trial practice. After law school, Ms. Luka clerked for the Honorable Emmett R. Cox on the Eleventh Circuit Court of Appeals.
After her clerkship, Ms. Luka joined private practice at a nationwide firm, where her practice focused on suing insurance companies that would not pay on high-end disability insurance policies. After several years of being a litigator, Ms. Luka joined an appellate firm where she both handled appeals and supported trial lawyers in the courtroom with her appellate expertise. Ms. Luka now brings both skill sets, that of a litigator and an appellate lawyer, to her practice in representing the injured.
In 2019, Ms. Luka was awarded the "Defender of the Realm" award by the Tampa Bay Trial Lawyers Association for her tireless appellate efforts to protect the recoveries Medicaid recipients receive in their personal injury lawsuits or settlements.
In her free time, Ms. Luka is an active member of her church and volunteers as a Troop Leader for her daughters' Girl Scout troops. As a woman born and raised in Florida, she enjoys all the state has to offer, from taking her daughters to theme parks to enjoying our many beaches. She also enjoys travel, watching movies, and reading.
Certifications and Bar Admissions
United States Supreme Court
United States Court of Appeals, Ninth and Eleventh Circuits
United States District Court, Middle and Southern Districts of Florida
All Florida Courts
Professional Associations and Memberships
American Association for Justice
Appellate Practice Section of The Florida Bar
Eleventh Circuit Court of Appeals Historical Society
Federal Bar Association
Florida Justice Association – Ms. Luka is an EAGLE member of the Florida Justice Association. She currently serves as Chair-Elect of the Appellate Practice Section and also sits on the Women's Caucus Board of Directors.
Florida Supreme Court Historical Society
Hillsborough Association of Women Lawyers
Hillsborough County Bar Association – Appellate Practice Section
Second District Court of Appeal Historical Society. 
Publications and Lectures
"How to Win Over Law Clerks & Influence Judges: Tips & Tricks for Getting the Most Out of Written Product", Central Florida Trial Lawyers Association, October 2022

The "Cliffs Notes" on Amendments to various rules of procedure related to use of "Communication Technology", Journal (Florida Justice Association) #628, September/October 2022
"How to Calculate Your Judgment Obtained Under the PFS Statue", Florida Justice Association Webinar, July 2022
"Protecting Your Damages Award on Appeal" Florida Justice Association Annual Conference, June 2022
"A Quick & Dirty Presentation on How Not to Screw Up a PFS", Central Florida Trial Lawyers Association, May 2022
"Dramatic Amendments to the Florida Rules of Civil Procedure", Florida Justice Association Annual Conference, Paralegals Section, March 2022
"Commonly Asked Questions About PFS Issues", Florida Justice Association Webinar, March 2022
"An Overhaul of the Florida Rules of Civil Procedure—Get Ready Because Change is Coming!", March 2022
"Defeating the Motion for Directed Verdict", Florida Justice Association Seminar, February 2022
"Closing Arguments—a primer on avoiding landmines", Central Florida Trial Lawyers Association, November 2021
"Demystifying the New Summary Judgment Rule—Part II: Caselaw you need to know to avoid trouble and use the changes to your advantage!", Journal (Florida Justice Association) #622, September/October 2021
"Demystifying the New Summary Judgment Rule—All the tings you need to know to avoid trouble and use the changes to your advantage!", Journal (Florida Justice Association) #621, July/August 2021
"Closing Arguments—Do this but NOT THAT!", Florida Justice Association Annual Convention, June 2021
"The New Summary Judgement Rule: What You Need to Know Now", Tampa Bay Trial Lawyers Association, May 2021
"A Preservation of Error Primer", Florida Justice Association Webinar, May 2021
"The Winds of Change are Blowing on Florida's Summary Judgment Rule: What you need to know while we wait", Journal (Florida Justice Association) #618, January/February 2021
"A Primer on Preservation of Error", Central Florida Trial Lawyers Association Webinar, 2021